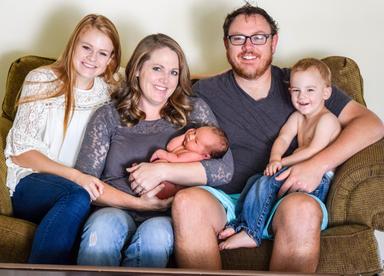 Hello from the Faust Family! Just to give you a little information about us, my husband Brian and I will have been married 3 years on May 31st this year. Brian serves as the pastor at nearby Webber United Methodist Church. He enjoys golfing and almost all sports out there.
Our son Taylor Bryant is almost 21 and is serving our country in the US Army at Ft. Bliss in El Paso, TX. He and his wife Emily are expecting their first child in March 2018.
Our daughter Jaimey Bryant is 17 and is a junior in high school. She enjoys running, sewing, writing and photography.
Our son Bennett is 2. He loves food, Mickey Mouse, running, driving his big sister crazy, laughing, digging in dirt, playing with rocks and being an ornery little boy.
Our little Andrew joined our family in September of 2017. He's a wonderful baby and we love having him as part of our family.
As for myself, I love to read, knit, play with my kids and be in relationship with people!
May the Lord bless and keep each and every one of you!
Blessings,
Rev. Natalie K. Faust