Superior First United Methodist Church
gathers every Sunday @
8:15 & 10:30 am.
LEARN MORE ON HOW YOU CAN GET INVOLVED.
About First United Methodist Church

Who We Are
We are a welcoming, non-judgmental gathering of believers and seekers trying to follow in Jesus' footsteps by loving our neighbor as ourselves.
Our Purpose
We at the First United Methodist Church of Superior seek to strengthen, pray for and nurture each other and to have our church be a place of worship, fellowship, spiritual growth, outreach and ministry.
ONGOING GROUPS
Needle Huddle every Wednesday 9 a.m. in the education unit
Devotion at Good Samaritan Center – 10:30 a.m. 2nd Thursday
Chapel Service at Kingswood Court – 4:00 p.m. 2nd Thursday
United Methodist Women – usually 3rd Wednesday, Call for time
Youth Group- Students from 7th-12th Grades Weekly on Wednesdays 6-7 p.m. (will begin weekly meetings again on September 9th, 2020)
Confirmation Class- Starting September 9th, 2020 Weekly on Wednesdays 7-8 p.m.
UPCOMING EVENTS
Youth Movie Night on the Front Lawn, June 5th, 2020 @ 8:30 p.m. Will be watching "I Still Believe."
Often thoughout the year we have Small Group Bible Studies. Some are for all people, some are gender based. Check back regularly to see what we may be offering. Our small groups, men's and women's Bible studies are here for you to grow in fellowship with others, while expanding your knowledge of the Bible. It's the perfect place to get involved and share. Pray for the needs of others and feel connected in a powerful way. We encourage everyone to join a small group or Bible study. Contact
Pastor Natalie Faust
for more information.
We have both Bell Choir and Choral Choir at FUMC! Contact
Pat McCord
for more information on serving in Bell Choir and Claudia Hansen for more information on serving in Choral Choir.
Our Children are not just the future of the church. They are the current church. We offer several ministry opportunities for our kids! Contact
Pastor Natalie Faust
for more information.
We Support our Local Theatre The Crest by serving there every 3rd Friday of the month from 6:30-7:45 p.m.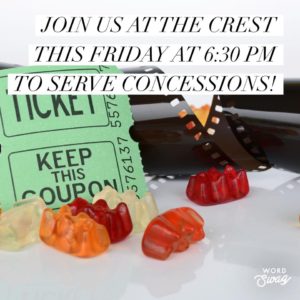 Through our global connectivity we support justice at home and abroad.
You Are God's Hands and Feet To The World.